Research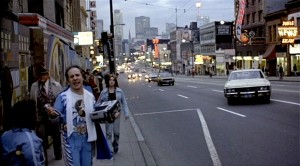 Reflective Audioviewing: An Acoustic Ecology of the Cinema
My work is premised upon a fundamental question: what can ecological perspectives teach us about the roles of sound/image media in facilitating human engagement with particular places?  I am currently adapting my dissertation into a book for Oxford University Press, entitled Reflective Audioviewing: An Acoustic Ecology of the Cinema.  Here I argue for the value of situating soundscape research within the discursive framework of documentary film sound theory to generate what I call "reflective audioviewing": a method for attuning both researchers and practitioners to the role of sound in the enmeshing of media and place.  Acoustic ecology holds that listening to the world reveals it differently, something that film sound theory has demonstrated for the cinema as well.  I argue that the ecological implications raised by acoustic ecology can be mapped onto listening practices in audiovisual media to inform our understanding of the world outside the screening room walls.  I analyze a diverse range of films to assess the use of audio technologies across sound design and soundscape studies to reveal how these practices can be understood relationally through shared ecological issues.  Acoustic ecology offers a tool kit for engaging people with place by way of sound, and I demonstrate how bringing this kit to the analysis of media sound offers a new point of entry into investigations of the relationship between aesthetics, cultural context, and industrial factors that bind media production to particular locales.  I won second place in the 2011 SCMS Student Writing Awards for my dissertation chapter on Jacques Tati's film Play Time, which now sits as the first chapter of my book.  And Organised Sound published an early treatment of my concept of reflective audioviewing in 2012.  I will deliver my completed manuscript to Oxford University Press next June.
The Vancouver Soundscape on Film
My postdoctoral project informs the last chapter of my book, which examines how the Vancouver case-study of the World Soundscape Project (conducted at SFU over the last 40 years) can inform research into the forces that have shaped the city's media representations over the same period.  Here I put my methodology for reflective audioviewing into action as I track divergent sound practices at the intersection of Vancouver's transnational media industries from Hollywood and the Pacific Rim, national institutions like the CBC and NFB, and regional filmmaking from the First Nations and local independent filmmaking cultures.  In 2012 I was invited to present the first stages of this research at Yale University's Sound of Architecture symposium, and this developed into an chapter in the Cinephemera anthology in which I explore the relationship between urban history, sound archives, and digital sound practices in Larry Kent's Hastings Street (now in press).
Mapping Audiovisual Vancouver
As Research Associate at SFU I am now developing the "Mapping Audiovisual Vancouver" project to explore the potential for digital cartography to assist research into the longitudinal relationships across media content in the collections of several of the city's archives.  Here I aim to create a model tool for intermedial historiography adaptable to diverse geographies.  The first stage of this project was to plot the recording locations of the WSP archive into Google Maps and interlink the relevant pages in the WSP database, a process that has raised questions about digital archiving that I'm now exploring as member of the WFAE Committee for Best Practices on Metadata for Sound Archives.  This work has also fueled a multimedia project, entitled Bell Tower of False Creek, which explores reflective audioviewing as a creative practice that can engage the complex dynamics of contested spaces in the area surrounding Vancouver's Burrard Bridge.  The initial component, a "soundwalk composition", was presented at the Lisbon Triennale last year.