Sound Writing Practices }{ AcWriMo 2013 }{ Guiding Philosophy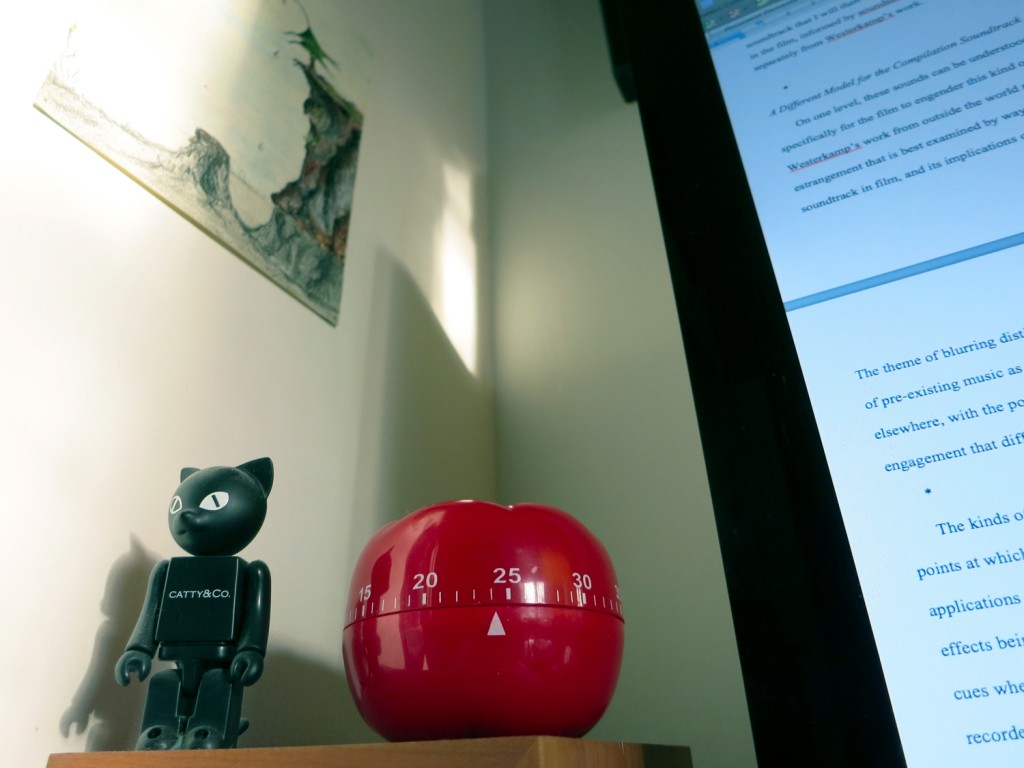 My approach to AcWriMo
My goal for Academic Writing Month is to lay the foundation for a better quality of life through an improved psychology of work. Lofty!  But you see, it's very hard to enjoy life when so much of it is occupied by something that I've been enjoying less and less over the years: writing.
For me, writing is nothing short of psychological warfare.  "I hate writing.  I love having written."  A phrase attributed to poet Dorothy Parker, and  I understand.  For me it's like this: when I look at my CV, I feel like a productive academic; when I'm working on something that will add another line to my CV, I don't feel nearly productive enough.  I feel continuously behind; everything takes too long; I'm not getting enough material out there – all this despite a steadily increasing flow of written work moving from my desk to the public sphere.  These feelings are a symptom of an academic system that puts a premium on unhealthy levels of "productivity."  And it isn't a pleasant mental environment in which to work.
I finished my Ph.D. in the fall of 2010.  Although I've had steady teaching contracts since graduating, and am now in the middle of a two-year postdoc, I have yet to land a full time post.  Though I know that things are changing dramatically in the world of academic hiring, most of which are out of my control, I can't help but feel that I'm not doing enough to be competitive – despite my consistent output.  And this makes writing seem like a chore that just won't quit rather a mode of creatively expressing the passion I hold for my research interests.
It's hard to justify time off when feeling like I'm not producing enough, a problem all the more poignant now that I'm a father of three children under the age of five.  Feeling like I'm always playing catch-up wreaks havoc with my self-esteem and career ambitions.  The albatross over my head wants me to succumb to self-doubt.  Many days I think I just can't hack it, so why do I bother trying?  It seems clear that there are simply too many demands on my time to be productive enough for a career in academia, right?  And if I'm going to make a go of it, how can I ever justify doing anything with my time that isn't in the service of urgent production?  Lingering guilt about unfinished business is bad enough while ducking out for coffee with a friend or to catch the latest film.  That feeling is amplified exponentially when it affects my demeanour around my children.  I have come to define hell as that mental tug-of-war between quality family time and nagging work; neither wins, and my soul loses.  It's enough to make me want to quit, a thought that runs through my head each and every day.
Enter AcWriMo. From one perspective, the idea of pushing ourselves to write more than ever before in a short space of time seems to celebrate the "culture of urgency," a phrase that Thesis Whisperer Inger Mewburn borrows from Jo Van Every to describe the current climate of academia.  While part of me is interested in the idea of pushing hard to produce more for the sake of my CV, I also know that – in the long term – I'm not interested in production for its own sake.  If I'm not enjoying the work anymore, I should figure out something else to do.  But as Mewburn discusses in this excellent post – my favourite commentary on AcWriMo to date – the exercise can be put to different purposes: to make the time for the activities required for writing regardless of desired output.  What I like most about her account is the emphasis on writing as a process that encompasses a myriad number of different kinds of tasks – reading, taking notes, typing drafts, cutting and pasting, restructuring, re-writing, re-reading, etc. – all of which need to be done and take a LOT of time.  So even when not typing out a certain number of words, we can feel good about getting work done if we know what that work is and count it among our necessary practices.  The key is to develop time management skills that allow for writing to be an enjoyable experience where so often it has become a laborious task that so many academics have increasingly little time for, yet one upon which our livelihoods depend.
I participated for the first time last November.  I set crazy goals, as is recommended.  I didn't finish everything on that list for many months afterwards.  And yet, I consider the exercise a success.  The accountability associated with practice – aided in my case by the use of the Pomodoro Technique - helped me to become acquainted with my own processes, and to redefine much of what I considered to be digressions or even wasted time as essential "products."  This helped turn the work I was already doing into a better experience, and allowed me to leave the work behind while doing other things.  These are gifts, major steps toward winning the psychological battle against constant anxieties about productivity, and I continued with the public declarations and logging right up until the following summer.  And over the long term I have clearly identified a few bad habits that can be converted into productive processing time without pushing myself to extremes and sacrificing my mental well-being in so doing.
I'll write more about why I love the Pomodoro Technique next week.  For now, let's set some goals and get on with my accountability.